Ceui 10th Major Debut Anniversary LIVE -First Eden-
Remember when I told you on my last post, that my next event would be Ishikawa Chiaki's LIVE? Well, it's not that I lied. That's next week. I bought the ticket already. But this week there's a holliday in Japan. So Monday's a day off. It would be such a shame to spend this weekend without any meaningful event, so I decided to attend Ceui 10th Major Debut Anniversary LIVE -First Eden-.

I didn't actually plan to come to this live event. So you see, Japan has lots of incredible artists, not least in the realm of anison, so it does make sense that I limit my spending spree on LIVE events. In fact, I actually put a target of two live's per month. More than that would mean miserable finance, less than that would mean a waste of opportunity, now that I'm finally in Japan. I only have two years to enjoy everything that Japan has to offer, and to me anison is top priority.
Now my original plan was to attend YuiKaori event, not to mention that it is going to be held in Yokohama, my base of operation, unfortunately I missed the ticketing period and couldn't secure the ticket. That means I'm one live short of my target. And that's bad. So what I did was scourge the eventer.jp site, surf all followed artist's twitter accounts in case I missed a live announcement, and then check artists official websites for future events. Actually I've planned on coming to Ceui's event, although not this week. I was planning to go on December 26th and 27th. I'm a fan of Ceui and I have wished to watch her live in person for a very long time. What, you don't know her? Okay, I suppose that's understandable. So let me make a quick introduction of her.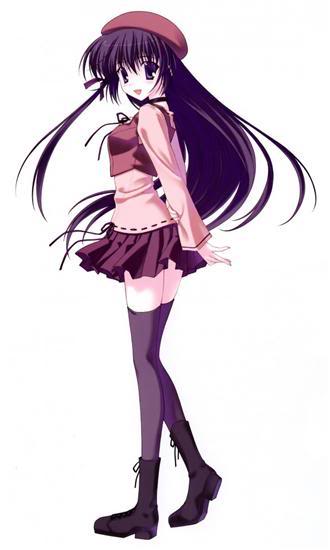 Shiho Matsuri of SoLa (2007)
One of my favorite genre of anime is romance drama. And it truly flourished \during the span of Air TV (2005), Kanon (2006), SoLa (2007), MySelf;YourSelf (2007), ef ~A Tale of Memories~ (2007), ef ~A Tale of Melodies~ (2008), Clannad (2008), Clannad AS (2009), and Amagami SS (2010). Now all of these titles are the pinnacle of anime drama (at least for me), and they truly were kind of like a milestone, with each had an element or two that was to define the genre, and be remembered and revered for time to come. One of them, SoLa, was an anime I have truly fond memories of. It was beautifully crafted for its time, the VAs was top quality (Mamiko Noto in the starring role), some lovable characters, a great plotline, and who can forget that heartwrenching finale. But there was one more element of the anime that I was very fond of. Music. And that was when I notice one particular artist who sung the anime ending. Ceui's "Mellow Melody" was truly a kamikyoku. I'm not sure why I love the song very much. May be because it matches the anime plotline perfectly. But it certainly owed much to the crystal clear voice of Ceui.
I'm sure many of you listens to anime OP/EDs, But there are other artists that you'll never heard before, if you follow the world of bishoujo game/Dating Sims/Visual Novel/Eroge OSTs. Names such as Ceui, Rita, Shimotsuki Haruka, Asriel, Ayane, Yozuca*, Ito Kanako, Sakakibara Yui, UR@N, Saori Sakura, Faylan, DUCA, NANA, Riryka, Eufonius, KAORI, Katakiri Rekka, etc. Sometimes one of those games would be adapted into anime, and gain mainstream attention, which was the case for I've Sound (with utahimes such as KOTOKO and Mami Kawada), and fripSide. So what about Ceui? Any other "mainstream" songs? Well, Densetsu no Yuusha no Densetsu would be one prime example. There's also Aoi Hana, Koisento, and even Railgun S.
Well so now you know who Ceui is. The live event is held in a place called "I Love Tokyo". It's a good thing that google has this one covered.
The door would be open at 18:30, and the live wouldn't start until 19:00. However, considering that I never went to that part of Greater Tokyo, I took precaution and left one hour earlier than google maps' suggestion. Which was good, because it involved some transferring between train lines, and lots of walking. The Tokyo-Shinjuku station is currently under renovation works, and some of the signboards aren't reflective of this so I kind of got lost a little bit.
Shortly speaking, from Yokohama Station, I took a JR train to Tokyo Shinjuku, transfer to a subway Oedo-Line. That subway line was rather hard to find, and amazingly I've got to wal around 500m underground from the entrance to the platform. I got off at Nishi-Shinjuku-Gochome Station.
As I got closer and closer to the venue, I kind of felt that something was odd. It seemed like I went deeper and deeper into the suburbs, residential area. There's less and less of anything in that direction. So I started wondering, is this the right place? So finally I found the place, exactly where google maps said it would be.
Had it not for these bouquet, I'm sure I would have doubted if this was in fact the right place. The building was merged with an apartement building (or masion if you will), it only has one door, with nothing but stairs going down to the basement, or upstairs. None of the audience has arrived apparently, and there was no one in vicinity. To the left of the entrance is a car repair workshop, I think. There's one guy in the workshop so I asked him if it was the right place, and he said yes, but the place isn't open yet. I did got there at 17:30 while the doors opens at 18:30. In case you're wondering why it was dark already on the photo, it's because it was. 16:00 is already dark here, now. So with no one there, and nothing to see, I kinda strolled the area. And it was like, there's absolutely nothing there. The place was exactly like the neighborhood I lived in. So to kill time, I went inside a supaa (supermarket if you will). Well, it was freezing outside anyway.
At about 18:15, I went back to the venue, and at least now there's a lot of people lining up. Most of them were wearing white hoodie and jackets, with an insignia and "CENTIA" written on it. Eh, must be the official fans club or something. The staff was calling out numbers and the audience went inside according to their number. Ah, so that's what the number written on the ticket I bought at FamiMa represents. Cool!
In a way, it kinda reminded me of when I first went to JKT48 theatre. The lottery entry number, the number of people attending, and the modest nature of the venue. So I came inside, paid 500 on the entrance (the staff's a cute girl), and into the live house, located in the basement.
Going down the stairway.
This was my first time going to a live house. I mean, I knew about them from K-On! but there's not much that I knew of, therefor nothing I expected to see. But it really was a great experience. It was sold out I think, judging by no chair left at the beginning of the show. The live house itself is small, probably the same size of Akihabara Sofmap's 6F floor, where I watched Kato*Fuku Mini-Live. Roughly estimating, about 200 people attended the show. All-seated (freely choose), and we got drink (most likely what that 500 yen was for).
The show starts. Ceui enters the stage along with the overture. She starts to sing, and oh my, how lovely her voice sounds. This is exactly what I came here to see. I mean, I came here with the spirit to see a singer, not an idol, whom I respected so much. To be honest, should I come across her somewhere else, I may not recognize her. Just like how it was with KOTOKO. Love her voice, love her songs, doesn't care much for anything else. The lack of publicity (in English, especially) doesn't help either. So yes, I purely came to watch her sing. And I'm enjoying every moment of it.
I noticed that "Centia" is actually the phrase officially used by Ceui, and by the fans to call themselves. I immediately remembered "Laurant" for Sound Horizon. It makes sense, considering both of their music are of fantasy genre (in which I think Sound Horizon kinda reinvented the genre). Ceui's music has this, kinda magical, wondrous feel to it, and the feel became much stronger in this live show.
I did said that I have no expectation whatsoever for anything other than her singing, but make no mistake: her MC is TOP CLASS. She looks to have this laid-back, relaxed way of talking. She speaks slowly and gently (as opposed to many Tokyo girls who speaks very quickly). But make no mistake, she is EXTRA FUNNY. She talks about a lot of things. The theme is, of course, "Eden", so she refers the live show as "Tenkuu", and true to her 'fantasy' music genre, she often speaks poetically, maybe in a philosophical kind of way. So we get that feeling of a soothing, gentle MC, but then boom! Bokke out of nowhere and everyone laughs. And it's not like she's forcing herself to make the audience laughs, like most novice idols do on their MCs. It was a natural flow.
What I truly admire from her is the fact that in two straight hours, not once she left the stage. That just shows what level of performance she has as an artist. And she's all alone in the stage, not sharing the stage with 15 others IYKWIM. Ceui has this naturally playful side to her MC as well, asking the audience what song she's going to sing after, with only a glimpse of a hint, if you could even call it a hint. "pu puu, wrong!". She's also good at interacting with the audience, such as "Everyone, welcome to eden. I hope you will enjoy this otherwise limited time of eden that we have." (Crowd)"But this is basement!"(Laughs) "Eeh? Well, yes, this is a basement. But this is eden. See?" (Waves hand in the air, filled with dry-ice smoke) "Clouds!" (Crowd laughs).
After a very long encore call, Ceui plays a piano. And again, she's very unpredictable. I mean, a soothing, gentle, Mamiko Noto-esque way of talking, and all of a sudden, random madness, without ever changing pace. I really love that side of her. She even started the piano session with a B'z song.
— Ceui@11/21 FirstEden (@Ceui0131) 21 November 2015
Like all good things, it has to end. She takes commemorative picture with us as seen in her twitter post above. I had a great time. I wasn't expecting it to be this good. But now, I think maybe coming to all her shows (provided it's in Tokyo area) isn't a bad idea. I mean, the admission fee is only 4500 yen. So I'm currently strongly considering going to her December live, instead of Wake Up Girls' concert. I think she's truly a wonderful artist, and underrated by most. The world should know more of her. Ah yes, spoken like a fanboy already.
Oh yes, next week I'll attend Ishikawa Chiaki's live performance. Hopefully I can produce a report by then.